Curriculum
At Woodhouse West our vision is 'Igniting enthusiasm and developing a passion for life long learning'. We offer a curriculum which is balanced and broadly based* and which:
promotes the spiritual, moral, cultural, mental and physical development of pupils at the school and of society
prepares pupils at the school for the opportunities, responsibilities and experiences of later life
The Foundation Stage Curriculum
There are seven areas of learning and development; all are important and inter-connected. The three prime areas, are:
Communication and language.
Physical development.
Personal, social and emotional development.
We also support children in four specific areas, through which the three prime areas are strengthened and applied. The specific areas are:
4. Literacy.
5.Mathematics.
6.Understanding the world.
7.Expressive arts and design.
Phonics
As soon as our children start in our Nursery they are exposed to listening and speaking opportunities which will form the foundations of learning to read and write. The more you talk with your child and encourage good listening and speaking skills the more likely they will flourish when asked to learn the sounds we use to read and write.
We are currently using 'Letters and Sounds' and 'Phonics Play' to teach phonic skills to our Early Years and Key Stage 1 children. To support with reading, our early reading books use a phonics based approach. Phonic patterns are used for spelling lists and are further developed through handwriting practice. In Key Stage 2, those children who require further phonic support take part in small booster groups delivered by our trained teaching assistants.
Here are the phonic steps we use in our school: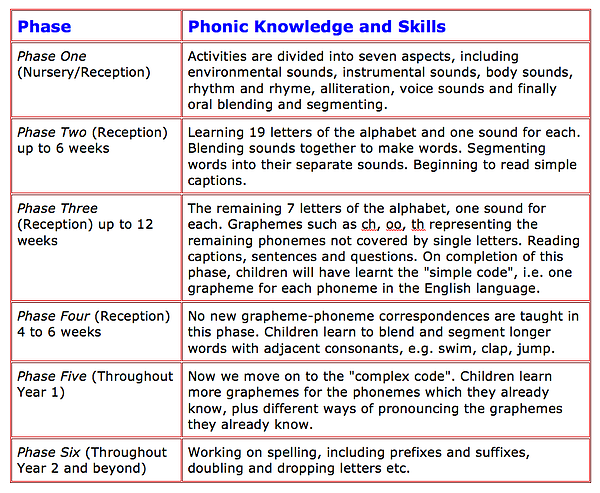 If you would like to help your child learn phonics in a fun way you can visit these websites www.phonicsplay.co.uk or www.letters-and-sounds.com .
Please ask your child's class teacher if you would like further advice on how to support your child with phonics.
Our School Curriculum
The school is organised into 4 phases each with a Phase Leader, details of which can be found on our staffing page.
FS1 and FS2 is Phase 1 , Year 1 & 2, Phase 2, Year 3 and 4, Phase 3 and Years 5 & 6 are Phase 4.
Children in Phase 1 follow the Early Years curriculum. Years 1 to 6 (Phase 2 to 4) follow the National Curriculum.
What subjects will my child learn?
At Woodhouse West we are committed to the philosophy of developing the whole child. Pupils are taught in a variety of groups and by different combinations of staff. The school ensures that each child has an education which provides continuity, progression and equality of opportunity for all.
We ensure spiritual, moral, social and cultural awareness is covered within the curriculum. Children are taught core subjects English, Maths, Science and Computing aswell as foundation subjects, Design & Technology, Music, Art & Design, Physical Education (PE), Geography, History and Religious Education *. Please speak to your child's class teacher or refer to the school prospectus for further information on the school curriculum.
Curriculum Overviews
Select a year group below for details of the half termly curriculum overviews and the topics that will be covered in that half term.
For further information on the school curriculum please contact the school office 0114 269 2602