Anti Bullying at Woodhouse West
We take bullying very seriously at Woodhouse West and endeavour to raise awareness in our school so that children are quick to recognise what bullying is, how it affects people and what they can do about it.
Activities have included:
Anti-bullying posters made by the children.

Online safety sessions about cyber bullying, how to recognise it and how to deal with it.

Crucial crew sessions on how to deal with peer pressure and bullying.

Assemblies where the theme is how school can tackle bullying.

Stories and poems about anti-bullying.

Anti-bullying charters for classrooms.
The Playground Leader scheme trains children to work in the playground encouraging children to join in with games and activities.
The 'Buddy Stop' also provides a safe place for children to go when they are feeling lonely or would like a friend to play with.
For more information, please view our Anti-Bullying Policy in the Policies section.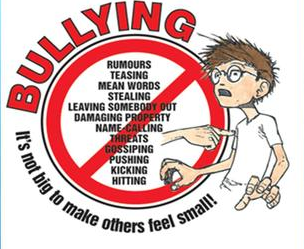 Feedback from Parents and Pupils
During parents' evening, parents were asked to give their feedback about things that were going well, and things school could do to improve further. 91% of parents said that their child behaves well most or all of the time, with 9% saying their child got back on track with a reminder. However, parents also said that several of their children had been bullied. Pupils were also interviewed in small groups to gather their views. A number of pupils also reported that they were being bullied. When the pupils talked about this further however, these incidents were one off behaviour incidents rather than bullying.
You said…
We did…

Bullying is an issue in school

- Whole school assemblies on the difference between bullying and being mean / hurting, how to deal with bullying, and how to solve playground problems.

- Whole school anti-bullying and online safety days. Each class has an anti-bullying charter.

- A flowchart showing how bullying allegations will be dealt with, including for confirmed instances of bullying.

- A 'worry box' in every classroom. Children can post notes to their teacher saying if they are worried about anything; these will be discussed as a class or 1:1 as appropriate.

- Mrs Holmes (Learning Mentor) will offer further support through 'drop-in' sessions on Wednesday lunchtimes.

- Y6 children will be trained as 'Playground Friends' and 'Peer Mentors' to help address minor fallouts between friends.

- New personal, social and health education (PSHE) curriculum will be starting in January.