Online Safety
In today's developing society, children use lots of different technologies such as mobile phones, games consoles and the internet on a daily basis and experience a wide range of opportunities. This level of technology and the ways in we can communicate are beneficial to all but can occasionally place children, young people and adults in danger if they are not managed appropriately.
Online Safety (sometimes known as eSafety) covers these issues and aims to give children the skills that they need in order to use the internet and other technologies safely and how to act if they discover or receive inappropriate communication. Online safety covers internet technologies but also electronic communications via mobile phones, games consoles and wireless technology. It allows children to understand the benefits, risks and responsibilities of using information technology. Any Online Safety incidents are recorded and managed in accordance with our Online Safety Policy.
We can only be successful in keeping children safe online if we work with parents to ensure the online Safety message is consistent. It is important that parents speak to their children about how they can keep safe and behave appropriately online.
This animation is aimed at educating parents on children's safety online: The Digital Universe of Your Children.
Another great website with huge amounts of information and advice about keeping children safe online is: www.childnet.com. Why not set up a family agreement for internet use? www.childnet.com/parents-and-carers/have-a-conversation. This free software can limit the amount of time children spend online, and block inappropriate websites:www.ilovefreesoftware.com
Internet Controls and Privacy Settings:
Link to a website giving information about new apps (e.g. Instagram, Snapchat), who should be using them, and how to set the privacy settings correctly: www.net-aware.org.uk
Videos about life online: A funny video about how strange our online lives are: vimeo.com/88465048
Search engines
Whilst no search engine is ever a 100% safe, Google offers a safer search option for children to search the Internet, below are links to "safer" search engines:
When children are accessing games via Xbox LIVE, ensure that the correct privacy settings are in place.
Websites for more information
CEOP (The Child Exploitation and Online Protection Centre) is often referred to as an online 999. Parents & children can report abusive or inappropriate behaviour online (for example if your child has been contacted inappropriately by strangers):
The "Thinkuknow" website is brought to you by the Child Exploitation and Online Protection (CEOP) centre.
Vodafone have produced a Digital Parenting Magazine which informs parents about the various technologies children are accessing today. There is information on Facebook settings, Xbox360 settings, Blackberry controls, jargon busting and many more 'How to Guides'. Well worth a read!
Kidsmart gives you lots of advice on how to stay safe online.
New e-Safety Portal for Parents and Schools – Internet Matters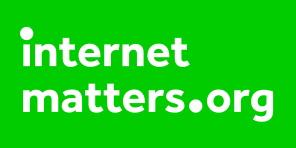 Internet Matters is a new online portal designed for parents to access simple, easy and practical advice about online safety for their children, right through from pre-school to teens. It provides tips on protecting children from online grooming, cyber bullying, privacy and identity theft and inappropriate content. Internet Matters is a not-for profit organisation set up by BT, Sky, TalkTalk and Virgin Media.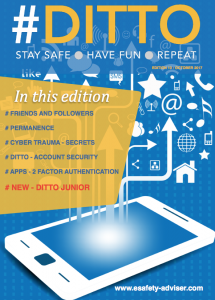 #DITTO is a free online safety magazine from esafety adviser, Alan Mackenzie, aimed at schools, organisations and parents. The content looks at risks, issues, advice and guidance related to keeping children safe online, with a view to enjoying and learning about technology.